Movie SUMMARY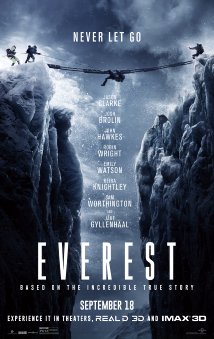 From the book:
Wikipedia Entry
Movie Year: 2015

A stunning movie based on the real life expedition in 1996 that spawned a couple of books - Into Thin Air being the most famous. (Note: Jon Krakauer the author of Into Thin Air - who was on that climb - does not think much of the movie.)
The visual effects are good - you feel you are on the mountain. The drama is compelling. The casualties are real. The people portrayed in the film are still on that mountain - they don't run expeditions to get bodies down.
An exciting, edge of your seat true story that is worth seeing
---
On the morning of May 10, 1996, climbers (Jason Clarke, Josh Brolin) from two expeditions start their final ascent toward the summit of Mount Everest, the highest point on Earth. With little warning, a violent storm strikes the mountain, engulfing the adventurers in one of the fiercest blizzards ever encountered by man. Challenged by the harshest conditions imaginable, the teams must endure blistering winds and freezing temperatures in an epic battle to survive against nearly impossible odds.